ועשו לי מקדש ושכנתי בתוכם
(שמות כה:ח)
Dedicated to building healthy, thriving Jewish communities
by strengthening the three pillars of a Jewish man's life.
torah
Our Beis Medresh program offers 3 full Sedarim a day to match any working or college students schedule and caters to a variety of learning levels, encouraging each and every bochur to reach new heights in his learning.

work
We guide bochurim to develop skills and values that enable them to excel professionally while maintaining a strong connection to Torah.

life
We empower bochurim with Torah wisdom to build a Bayis Ne'eman and a vibrant Jewish community.
where there was a cliff after full time learning, veshachanti built a bridge
Originally from Monsey NY, Rav Luger completed high school in Yeshiva Shaarei Torah and then continued to learn in the prestigious Yeshiva of Toras Simcha and Yeshiva Gedola Matisyahu. Afterward, he continued his learning in Sh'or Yoshuv while completing his degree in Business Administration. After making aliyah, Rav Luger joined Kollel Tzeiri Haleviim, a semicha Kollel under the auspices of HaRav Hagaon Avigdor Nevenzahl, Shlita. He then became a Rebbe in Fisher's Yeshiva on Moshav Matityahu, ultimately opening and leading the Old City branch. He also gives an exciting and engaging weekly hashkafa shiur at Yeshivat Netiv Aryeh and has led many groups and chaburos on mindfulness and 12 step programs. Additionally, Rav Luger has served as a chinuch consultant and mental health askan.
With a keen understanding of today's challenges, Rav Luger has an unparalleled ability to connect to each talmid and help them find their own path within the Torah world. Currently, he resides in the French Hill neighborhood of Yerushalayim with his wife and children.
Yeshivas Veshachanti may be for you if….
You are interested in transitioning from full time learning to starting the next chapter of your life with full support – spiritually and professionally.
You want to be part of a growth  oriented and accepting community.
You want to continue growing spiritually and want a wide range of options to choose what to learn from
You want a flexible schedule that fits your school / work/ home life
You are motivated, ambitious and believe you have a lot to give to your peers and community.
You want to have a spiritual, successful, stable home life, professional career and most importantly connection to 'ה.
Veshachanti is a place that provides you with the tools not just to learn, but to live.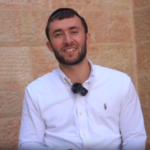 Veshachanti gave me the tools to have a day filled with learning, working, and the ability to build a good home.