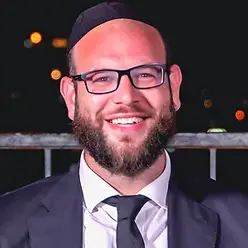 RABBI LUGER
ROSH YESHIVA
Originally from Monsey NY, Rav Luger completed high school in Yeshiva Shaarei Torah and then continued to learn in the prestigious Yeshiva of Toras Simcha and Yeshiva Gedola Matisyahu. Afterward, he continued his learning in Sh'or Yoshuv while completing his degree in Business Administration. After making aliyah, Rav Luger joined Kollel Tzeiri Haleviim, a semicha Kollel under the auspices of HaRav Hagaon Avigdor Nevenzahl, Shlita. He then became a Rebbe in Fisher's Yeshiva on Moshav Matityahu, ultimately opening and leading the Old City branch. He also gives an exciting and engaging weekly hashkafa shiur at Yeshivat Netiv Aryeh and has led many groups and chaburos on mindfulness and 12 step programs. Additionally, Rav Luger has served as a chinuch consultant and mental health askan.
With a keen understanding of today's challenges, Rav Luger has an unparalleled ability to connect to each talmid and help them find their own path within the Torah world. Currently, he resides in the French Hill neighborhood of Yerushalayim with his wife and children.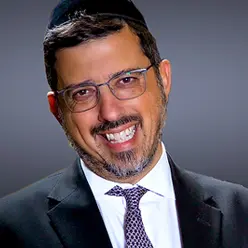 HARAV AVRAHAM YITZCHOK ELBAZ
Rav Avraham Yitzchok Elbaz is American born and educated in the great Yeshivas of Mir and BMG. Soon after marrying Chana (Nee Schwab) in 1992, he continued his studies in Mir Yeshiva Jerusalem for the next 13 years. During that time he co-headed a group of serious Kollel students in different areas of Halacha. After receiving Smicha from leading Rabbonim including Hagaon Rav Moshe Halberstam Zt"l of the Eida Hachareidis in Jerusalem, he continued to co-lead another group of Kollel students as part of the network of Ateres Shlomo. He is, and continues to be, a Talmid Muvhak of a Hagaon Rav Yitzchok Berkovitz for more than 25 years. Today, Rav Elbaz is leading a vibrant congregation "Gevuras Yosef" in the fast growing community of French Hill, Jerusalem. He is also the Posek of Yeshivas Aish Hatorah in the Old City. His ability to transmit exciting and passionate Shiurim endears him to a wide range of audiences. Currently he lives with his wife, children and grandchildren in Jerusalem, Israel.
RABBI TZVI ROSENZWEIG
R"M
Originally from Queens, Rabbi Rosenzweig earned his BTL from Yeshivas Ner Yaakov, continuing on to learn in Yeshivas Mir for eight years. During that time, Rabbi Rosenzweig's keen ability to help others with their learning skills while also connect on a personal level became apparent and he was hired to tutor other bochurim in the Mir. Rabbi Rosenzweig then went on to work as a Shol U'Meishiv at Merkaz Hatorah and then as a Rebbe in Fisher's Yeshiva. Rabbi Rosenzweig is beloved by his talmidim for his warmth and enthusiasm. He possesses an exceptional ability to teach bochurim on any level and has inspired many students to begin or resume learning after prolonged breaks & ultimately to learn and know entire Mesechtas, instilling in them the confidence to become their best selves- both in and outside of the Beis Medrash. He currently resides in Maalot Dafna, Yerushalayim with his wife and children.
RABBI YOSEF SEGAL
R"M
Upon making Aliyah from Baltimore, MD, in 2005, Rabbi Segal settled in Yerushalayim with his family. He learned in Mir and Tehillas Shlomo for Beis Medrash, among other prominent yeshivos, while earning a master's in Public Relations and Business Management from University of Maryland-UC. Rabbi Segal has taught in numerous yeshivos for ten years and has and continues to learn in the halacha kolel of HaRav Sharaga Kallus for many years. Additionaly, Rabbi Segal published Reality Check: A Handbook of Hashkafa in 2016, which discusses clear explanations to our basic beliefs and everyday Jewish practices, which undoubtedly has enhanced his shiurim. Rabbi Segal currently lives in Yerushalayim with his wife and son.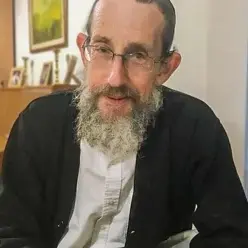 RABBI DOVID CHARLOP
MASHPIA
Rabbi Dovid Charlop began learning in Ohr Sameach in 1977 as a talmid of Rav Nachman Bulman zt'l. He later received semicha from Rav Shaya Dublitsky zt'l of Bnei Brak and has a Bachelors of Science in Education from the Empire College, a branch of the New York State University System.
He has been teaching for over 35 years including day schools, Yeshiva High School, Baalei Teshuva, as well as at risk young men at Yeshivas Neveh Zion for 25 years. After receiving professional training and supervision, Rabbi Charlop has been a practicing marriage and general counselor for seven years.
RABBI YEHUDA GOLDMAN
HANHALA
Hailing from Los Angeles, California, Rabbi Goldman learned at Yeshiva Toras Simcha under Rav Asher Rubinstein z"tl and continued on at Kollel Ohr Lagolah – Ohr Somayach. Rabbi Goldman brings years of experience in non-profit administration helping ensure Yeshiva's short and long term operational success. Rabbi Goldman also serves as CEO of Earth Kosher, a Kosher certification agency that services over 500 companies in 40+ countries worldwide. Rabbi Goldman gives special lectures to our students on the Kashrus industry as well as practical classes on understanding bureaucracy and government/financial services. He resides in Yerushalayim with his wife and children.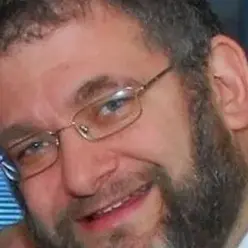 RABBI YIGAL SEGAL
CHIEF STRATEGIC OFFICER
Rabbi Yigal Segal has been managing the US financial activity for Israeli non-profits for the last 15 years. He made Aliyah with his wife and family from Baltimore, MD and lives in Jerusalem. He brings a wealth of experience in the non profit world to the Veshachanti family.
DR. JACOB FREEDMAN
EXECUTIVE BOARD MEMBER
Dr. Jacob L. Freedman is a board-certified psychiatrist in both American and Israel. After completing his training as an award-winning Chief Resident at Harvard Medical School, Dr. Freedman made Aliyah with his wife and children. Dr. Freedman is known for his inspirational talks in the community, his popular column in Mishpacha Magazine, and his new book—Off The Couch—in collaboration with Menucha Publishers. He can be most easily reached via his website: drjacoblfreedman.com